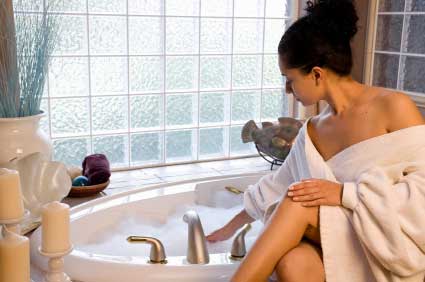 Bathrooms can be restored by resurfacing their surfaces.
A bathroom is made up of surfaces that wear out due to water, heat, steam, and cleaning. This is general wear and tear for every bathroom. We use Napco PolyGlass™ low VOC coating. Like no other product on the market, it is cured in less than 4 hours meaning you can use your bathroom the same day. It will not crack or yellow over time.  It is resilient to cracking during expansion and contraction due to temperature fluctuations and it also provides a surface which is harder than acrylic or enamel.  It also has excellent stain resistance and colour retention.
An added bonus when resurfacing your tiles is that our unique polyglass coating seals the grout lines making cleaning a breeze.
A new coating over the wall tiles, bath, shower base, shower tiles, basin, vanity and/or the cupboards will lift your bathroom to look like new again. The surface may have become porous, or you may not be happy with the colour of your fixtures. There is no need to strip out these items. Superior Resurfacing can give you the best alternative to new. With up to 70% less cost and completed in only a couple of days, the option of replacement is unnecessary.
Vanity doors can be resurfaced, and as a feature, your vanity top can be resurfaced with a stone look coating called Flintstone II (see some of our benchtop samples on the right).
Resurfacing will modernise your bathroom and is great value for money.
Click here to go to our before and after photos page to see some of the bathrooms we have done.